Pull Up A Seat And Get Your Family Back
Featured Post By Dream Team Member Shontell Brewer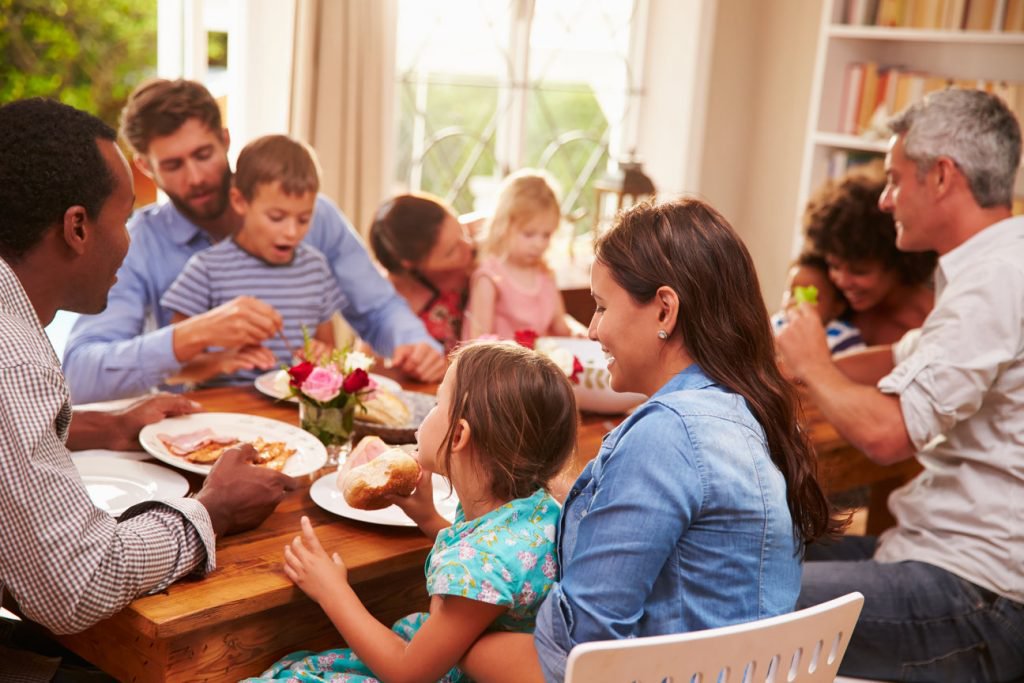 Anytime food is involved, I feel like my answer is automatically, "Yah, dude." So, implementing family dinner as a standard and not just something cool that happens now and then seemed like a no-brainer. But what it really looked like—and how we would benefit from these seemingly mundane gatherings—was a different story altogether. We quickly realized family dinner is the best space to stay connected as a family no matter what season we find ourselves.
The typical family according to most sources spends about two hours per day with their kids. And, I would say they are playing it fast and loose with the term "spending time." They included sitting side-by-side on individual screens, sitting at the breakfast table while one is eating and the other is on a screen, family dinner in front of the television, and even time in the car where little or no engagement is happening. Take away all those and we are looking at one hour of time. Fifty-four minutes to be exact with that average.
I don't mean to be dramatic, but that isn't nearly enough time for anyone to disciple kids into the people God means for them to become. Think about it. As parents, we want to stand before our kids on launch day and be able to send them out in confidence. To say with surety that they can cook a meal, get a job, keep a job, apologize, figure out how to get the oil changed in their car even if they aren't the ones to do the changing. We also want our kids to be spiritually equipped—pray and hear from God on their own, seek wisdom from Scripture, know and share their testimony, pray with someone else and lead that someone into a relationship with Christ. All of this has to be learned. Adding family dinners to your nightly routine provides an organic space for much of this discipleship to take place.
What will it take?
By now some of you might be feeling like this is an impossible addition or totally unrealistic goal. Something else to feel guilty over because it just can't fit into your family. Must be real nice for people who have this kind of time. I hear you and I see you. And, I'll concede that this is a challenge and maybe some things need to shift a little. But it was possible for us, even with five babies and a fire fighter husband who works more nights than he is home, and I promise it can work for you if you decide this is a priority. The purpose isn't to add something else to your schedule, it's to add another point of intentionality to what you do already. To make the most of the minutes we have with our kids.
What Does It Look Like?
The short answer to this question is it can look however you want it to. Here is a quick Q&A to help family dinner work for you.
Does it have to be dinner?
No! Some years we only had breakfast together because we had small kids and hubby worked three jobs, so I could stay home with them and homeschool. So breakfast was a big deal for us. You pick! Even if it ends up being a really intentional snack time, take it!
Does it have to be home cooked?
No way. You do what is right for your family. If it's a choice between having time to cook a meal or spend time with your people, choose your people. Or get wild and bring your people into the kitchen. This can be a fun way for the family to connect.
How many people have to be home?
Whoever can make it. We don't have a rule, but as our kids got older and started working and getting busy with school and sports, we set a baseline of dinner three times each week. That doesn't always happen, and we allow flexibility for what works in each season.
What about screens?
We don't allow screens at our table. Since the primary reason we implemented family meal times is to actually be in relationship, we eliminate anything that could get in the way of that. For us that is cell phones (yes even the grown-ups) and television. Sometimes, we have music on, but that's about as wild as it gets. We want to create as much space for words as possible.
I know this may take some arranging, and you might need to lead with why you are doing this, but it's worth it. Maybe set a time limit. Try it for the next month and just see if it makes any difference in your house. You may be pleasantly surprised to find yourselves laughing, smiling, and loving just a little more than usual.